November 30, 2012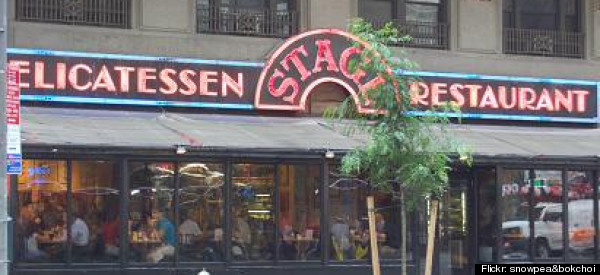 The New York Times brings word that New York's famous Stage Deli closed at midnight on Thursday, November 29. The restaurant, which had been open since 1937, was known for its massive sandwiches and Jewish American deli fare.
Continue reading...
| | |
| --- | --- |
| | |
FOOD INTEGRITY CAMPAIGN
New Whistleblower Law Empowers Voice of Federal Food Safety Employees
Now, more than 110,000 USDA and FDA employees enjoy solid whistleblower protections, and can feel more secure to speak up when they see something wrong with the food we eat. Continue reading...

COLM MULCAHY
Ratio: A Recurring Theme in Food, Art and Graphics
Thinking about food can sometimes lead to artistic and mathematical insight. Suppose we wish to make a smoothie from apple and blueberry purees. While the question of the perfect balance of flavors is a personal one, we can describe all of the possibilities using elementary math. Continue reading...

PARTY EARTH
Historic Hotel Bars Around the World
Strip away the concierge, heated pool and freshly made beds. Lose the velvety bathrobe that "mysteriously" ends up in your luggage. In fact, pare the hotel down to one element: its bar. Continue reading...

REBECCA GERENDASY
A Critical Head Start for Pre-Schoolers: Eating Healthy Foods (video)
Continue reading...


Received this from a friend? Sign up for alerts from The Huffington Post here
Unsubscribe here.